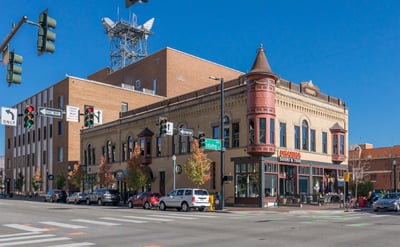 BOISE, ID — July 5th, 2017 – Alturas Capital announced that it has acquired the Adelmann Building in downtown Boise. The multi-tenant 17,000+ SF building marks Alturas Capital's thirteenth commercial property in its growing portfolio.
The Adelmann Building is an iconic structure located in the heart of downtown Boise directly across from Boise City Hall and a block away from the steps of the Idaho State Capitol. The current tenants include: Boise Fry Company, Dharma Sushi, Press & Pony, Space Bar, and Capital City Event Center.
"We believe in the future of downtown Boise as the city continues to grow with the recent and planned additions of several office, residential and hospitality projects. These projects will bring increased business to our tenants and enhance the vibrancy of the downtown core," said Devin Morris, director of acquisitions at Alturas Capital. "We are also excited to bring an iconic Boise landmark back to local ownership."
The building was previously owned by an out-of-state investment group. It was last remodeled in 2015 and continued investments are expected under Alturas' ownership.
About Alturas Capital
Based in Eagle, Alturas Capital has become a leading investment firm by creating win-win-win partnerships with business owners, real estate professionals, and investors. With a proven track record of advantageous, expertly-analyzed real estate investments in the Intermountain West and Pacific Northwest, Alturas provides long-term value for both its clients and the community at large.